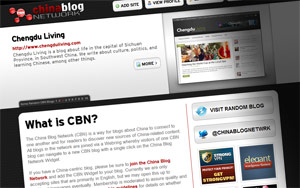 In early 2008 Dao By Design added a feature to its China-expat focused community site — Lost Laowai — which allowed bloggers focused on China to connect with one another. In the time since the feature has become increasingly popular and outgrew its position as a periphery feature on another site. So, we did the only thing we could: redesigned it, repackaged it, and relaunched it on its own domain.
As such, we're extremely proud to present the China Blog Network.
And of course, no overhaul would be complete without a bunch of new features to assist in facilitating the site's primary purposes — helping China bloggers connect to one another and getting their blog discovered by a wider audience.

The premise of the CBN is simple, members submit their sites, and the sites are then "connected" to one another in traditional Webring fashion facilitated by the completely redesigned CBN Widget.
Additionally, the CBN features a categorized directory of sites about China, with each site receiving its own detailed profile page complete with a full description of the site, an auto-generated site thumbnail, placement on the CBN interactive location map, latest posts feed, a "like" button, tracking of fans of the site, and a list of similar blogs to help easily find other relevant sites
The China Blog Network also includes a community-supported forum where bloggers and site developers can get answers and discuss topics related to blogging, site creation and China.
We built the site using the powerful open-source content management system, Drupal. In addition, the site includes integration with OpenLayers, a excellent dynamic and interactive mapping script, to handle on-map display of community member blogs.